Half the people already voted early: now get out the vote for the other half on Election Day!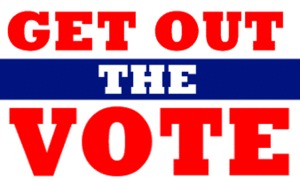 Please join us for Election Eve GOTV at the monthly Lowndes County Democratic Party meeting at Mama June's:
making phone calls on behalf of candidates,
knocking on doors for candidates,
and giving rides to the polls.
Some LCDP members are planning on holding campaign signs in legally acceptable areas near polling locations. All that and slate cards, vote no on Amendment 3, and elect local, statewide, and national Democrats!
When: 6PM Monday November 7th 2016
Where: Mama Junes Restaurant, 3286 Inner Perimeter Road, Valdosta, Georgia 31602
Facebook: event

Vote NO on Amendment 3:
The independence of Georgia's courts is under attack from the Georgia legislature. On November 8th Amendment 3 asks the voters of Georgia to roll back a 40 year history of removing unethical judges. The voters must say NO to Amendment 3.
Slate Cards
The Lowndes County Democratic Party mailed out 7,500 slate cards throughout Lowndes County to promote Democratic candidates in the November election. In addition to promoting the Clinton/Kaine ticket, the slate cards promote Democrats running at the state and local levels.
Rides to the Polls
If you or anyone you know needs a ride to the polls now until Election Day, please call Tom Hochschild (Chair) at 229-588-1993 or Dennis Marks (Vice-Chair Elections) at 229-630-8486.
Thank you for all you do to make South Georgia a better place to live!
You can become an LCDP member or renew today to help elect Democrats!
About the Lowndes County Democratic Party
The Lowndes County Democratic Party:
promotes development of Party organization and activities
seeks and encourages qualified candidates for public office
supports Democratic nominees
performs such election functions as are required by law
maintains appropriate records, promotes and adds logistical support to the State Affirmative Action program
raises funds for the above purposes
Contact
Tom Hochschild, Chair
229-588-1993
Lowndes County Democratic Party
P.O. Box 4198
Valdosta, GA 31604
lowndesdem@gmail.com
http://lowndesdems.org
https://www.facebook.com/lowndesdems
https://twitter.com/LowndesDems
Short Link: